World Peace Meditations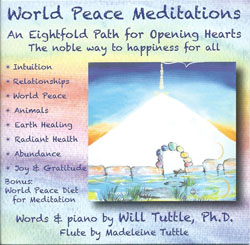 This Eight-fold Meditation created by Dr. Will Tuttle is for world peace for all of us, for inner peace, inspiration and relaxation. These spoken meditations by Dr. Tuttle guide us gently into higher states of awareness and healing. Designed for both wakeful activities such as driving as well as for quiet relaxation. Serene background music composed and performed by Dr. Tuttle on acoustic piano, accompanied by Madeleine on silver flute.
The Eightfold Way:
* Developing Intuition
* Harmonious Relationships
* World Peace
* Animal Relations
* Earth Healing
* Radiant Health
* Abundance
* Joy & Gratitude
Bonus: 22 minutes of inspiring quotes from Dr. Tuttle's The World Peace Diet - perfect for meditation and yoga practice.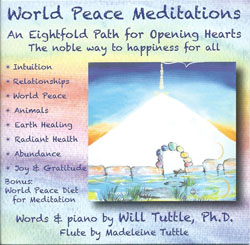 To download a 74:20 minute MP3 audio file of the World Peace Meditations by Dr. Will Tuttle, please enter your email address here. You will automatically be taken to a page with the download links. Just click the link and then click on any of the 10 mp3 files you would like to download.
Please contact us if you have any questions.
Donations accepted. Thanks for contributing to this work.

This work is licensed under a Creative Commons Attribution-Noncommercial-No Derivative Works 3.0 Unported License.


Dr. Will Tuttle

1083 Vine Street
Healdsburg, CA 95448
800-697-6614/707-207-5020 (message)

World Peace Diet Home | Will's Music | Seminars | Schedule | Madeleine's Art | Contact | Privacy | Order | Checkout