Facilitator's Overview for The World Peace Diet
"If there's no veg or vegan community where you are, then build one using The World Peace Diet!" -- Mark Stroud
"Enter into a gentle world, a world where food is cruelty free and spirits are uplifted. Besides the delicious food, there's music, stimulating conversation and support for embracing a compassionate lifestyle. It's enough to make you believe in the upward trend of humanity that all of us are fervently hoping for. Conversations are based on Will Tuttle's amazing book, The World Peace Diet, the most powerful analysis of our culture's current problems and how to solve them." – Pat Ritz
Thank you for your interest in facilitating a course or book study group on The World Peace Diet, and spreading this transformational message. Countless beings—animals, future generations, hungry people, and untold others—thank you for caring enough to make an effort to bring compassion and understanding to our world. Click here to find out about this year's October retreat.
NOTE: - We have been offering certification retreats the last two years, and will do so again in October, 2010, in Cincinnati. So far, they have been in Michigan, California, and Ohio. If you are interested in participating in one at some point, please let us know below.
To find out more about facilitating a course or book study group on The World Peace Diet, including a free PDF file of helpful tips and information, as well as a list of study questions that you can use, please enter your first name and email address here. We never share this or any list with anyone! It is only for possible follow-up. Thanks!
You can view or print the PDF files and use them as you see fit. If you have further questions, please send us an email.
Additional Recommended Resource:
The Deluxe World Peace Diet Study Guide for facilitators: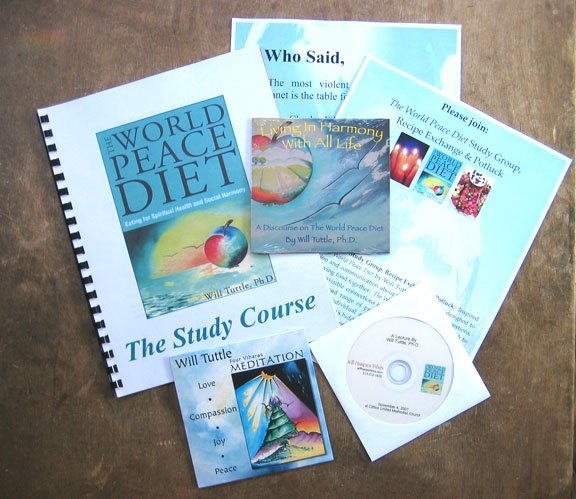 You can also contact Leah Griffith, who is our WPD facilitator coordinator. She works directly with Mark Stroud and Anna Ferguson, who have successfully facilitated courses on The World Peace Diet for several years in Cincinnati, and put on the terrific October event every year inspired by The World Peace Diet called The World Peace & Yoga Jubilee. Mark has created an excellent and much more detailed Course Study Guide with additional resources for successfully offering and facilitating a study course on The World Peace Diet.
For more information about the Study Guide and to order directly.
If you would like more guidance and more ideas in presenting the course, I recommend that you contact Leah.
"The World Peace Diet study group gave me time to absorb information that I never thought of before. Each session we discussed a couple of chapters and ate some great vegan food. I guess it was learning through the senses. It is mind boggling when you realize what is going on behind the scenes in the food industry. I'm so glad I took this class." – Christine Kuhr
"The World Peace Diet study course was an inspirational journey. Even though I have been vegan for several years now, reading The World Peace Diet and discussing its ideas in an open environment with a diverse group of people helped me to reaffirm my belief in the power of our food choices, and the impact that making positive changes within my own life has on the world around me. I recommend this course to everyone, especially those who hold peace and love as important ideals."
--Jacki Sprinkle, student at Xavier University
"I have been attending the World Peace Diet study groups and potluck for more than a year now. I have found the experience more beneficial than I can put into words. I had already transitioned my diet to a vegan diet when I found the group but my thoughts, beliefs and daily lifestyle were still in transition. The community that Anna Ferguson and Mark Stroud have created and continue to give their heart and soul to has completely become my family. I have never felt as much support and love or felt more at home than I do at these meetings and with this community. I feel that it is absolutely essential to have support like this when making this kind of a lifestyle change. Navigating the rest of the not-yet-vegan world can be challenging to say the least. These meetings have become a refuge, a soft place to rest and regain strength and energy. I look forward to these meetings and begin preparing for them with anticipation days in advance. Each meeting is like a joyous reunion with others that understand my thoughts and beliefs, and a celebration of life and the positive impact that our lives can have on the world around us. The book in and of itself is an amazing and inspirational depiction of our current society and what we can each do personally to contribute to the change that we all want to see. We all want peace and this book along with the study group and potlucks are a step on that journey. I will continue to participate in these potlucks every time they are offered; they have become a beautiful part of who I am." –Rena Becker
"My wife Claudia and I took the World Peace Diet course and cooking class with renowned Olympic chef Mark Stroud. The information shared and studied in those weeks was priceless. Dr. Tuttle's book, The World Peace Diet, is an exhaustive study of veganism, and having group study made the information more interesting and accessible. The study course is set up so that everybody can participate freely and without judgment from others. The sharing of ideas and opinions was wonderful within our group, and I truly believe that everybody in our group became more educated and mindful of the food they are eating. Sharing the terrific vegan food also helped show that delicious food can be prepared without cruelty. I highly recommend this class." -- John Mooter, Chair, EarthSave Cincinnati
You can find out more about obtaining Mark's valuable Course Study Guide for facilitators by emailing Leah Griffith.
In addition, as you are proceeding, Mark is available for helpful coaching if you have questions about facilitating this course, whether you are just using this brief and basic overview or are using his more comprehensive Course Study Guide. Contact Leah for more information.
Mark has won a bronze medal in the Culinary Olympics and also ran a vegan restaurant in Cincinnati voted one of the ten best vegetarian restaurants in the country by Vegetarian Times magazine. If you are interested in conducting a World Peace Diet Cooking Class in addition to this World Peace Diet Study Course, please contact Mark about this as well.
Thanks again for your interest in facilitating a course on The World Peace Diet. It is a noble undertaking, and we wish you all success in your efforts!

Will's Music | Madeleine's Art | Portraits | Home | Seminars | Tour Schedule | Links | Reviews | Order | Checkout