The missing book that illuminates the hidden core of our culture and helps us understand...
The World Peace Diet, which became a #1 Amazon best-seller in March, 2010, offers a compelling and liberating new understanding of our food and our culture. It has been called one of the most important books of the 21st century: the foundation of a new society based on the truth of the interconnectedness of all life. It is the first book to make explicit the invisible connections between our culture, our food, and the source of our broad range of problems—and the way to a positive transformation in our individual and collective lives.
The World Peace Diet is an award-winning book. If you want to understand the big picture of our culture and why we have the unyielding dilemmas we face, and how we can solve them, this book is for you.
The World Peace Diet lists for $22. When you order from this website, your book is only $20, and will be signed by the author, and will include a copy of Living in Harmony With All Life, a 75-minute CD discourse by Dr. Tuttle on some of the main ideas in The World Peace Diet, with musical interludes. It will also include a free copy of Madeleine's "Intuitive Cooking." Click here to order a printed copy of The World Peace Diet and have it shipped to your door, with the Living in Harmony With All Life CD and "Intuitive Cooking."

Click here to download a complimentary mp3 sound file of Living in Harmony With All Life, the 75-minute discourse by Dr. Tuttle on The World Peace Diet and/or a PDF file of Madeleine's "Intuitive Cooking," or the book.
"If I could afford it, I'd place a copy of The World Peace Diet in every hotel room in the country."
M.A. Lederer, Cincinnati

Spread the message - Click here for Quantity Discounts
What people are saying about The World Peace Diet:
"One of the most important books of the 21st century." -- Norm Phelps, author, The Dominion of Love and The Longest Struggle, and others .
"Absolutely the BEST book EVER on the spiritual connection to what's on our plates. This is my favorite book in YEARS. A must." -- Meria Heller, noted radio talk show host
"A profoundly insightful and important book, The World Peace Diet is sure to be a catalyst and important tool in the evolution of human consciousness."-- Satya Magazine
"Use The World Peace Diet as a guide to empower yourself and others in making dietary choices that are powerful beyond what you can possibly imagine."
Julia Butterfly Hill, famed environmental activist, author, and founder, Circle of Life Foundation
"Will Tuttle brings a priceless perspective—not only to the planetary crisis confronting us all, but also to powerful ways we each can affect it. This book is radiant with his learning and his compassion."
Dr. Joanna Macy, noted author, lecturer, educator, and peace activist
"Will Tuttle, the author of this eloquently written book, challenges our thinking about our relationship to non-human animals with respect, sensitivity, and grace. His understanding of the human psyche is deep. His use of language is divine, and his compassion reaches out and jumps off each and every page. I highly recommend this book, and I dare you to not be moved by its gentle power."
Colleen Patrick-Goudreau, author and host of Compassionate Cooks
"I believe The World Peace Diet is the most important book of the 21st century. If you read but one book in your life, make it The World Peace Diet."
James Macy, M.D.

"Will Tuttle speaks with a prophetic voice for those in our world who have no voice. I find this book to be the clearest and most complete case for ethical vegetarianism that I have ever seen. I admire him for the courage and the skill to state his case in a very clear and compelling way. A landmark publication."
Rev. Robert J. Brumet, Faculty, Unity School of Christianity
"The World Peace Diet presents what is probably the most comprehensive case yet for eating a diet, and creating a society, free from cruelty and violence. Its central focus is the idea that cruelty to animals (particularly farmed animals) sets a tone in our society that plays out in interpersonal violence, war, and environmental destruction. It is a provocative thesis, one that merits the attention of all who claim to value life." -- Dr. Daniel Redwood in Pathways Magazine
"Stripping away delusions and rationalizations, The World Peace Diet powerfully presents the connections between our current food choices and so many of the problems we face with our health, our environment, our politics, our society--and our spirits. Dr. Tuttle provides the understanding of why and how a change to a truly health supporting--and life affirming--way of eating can enable us to thrive as individuals--and to survive as a society.
"Profound, passionate--and ultimately hopeful and inspiring--Will Tuttle's The World Peace Diet should be required reading for students everywhere--and for all people with inquiring minds and open hearts. I recommend it most highly."
Michael Klaper, M.D., noted author, lecturer, and health researcher
"Thought-provoking and recommended for most collections."-- Library Journal
"The World Peace Diet is one of the most provocative books I've ever read. I felt challenged and stimulated by its profound insights, and called to question ever more deeply what Will Tuttle calls 'the taboo against knowing who you eat.' This is a deep book, aglow with insights that penetrate and expose the complacency of a culture that has strayed painfully far from compassion."
John Robbins, celebrated author, Diet For A New America and many other best-selling books
"I am grateful for this powerful and cogent book. It has stretched my thinking (and heart) about animals, compassion, and our society."
John Mackey, Founder and C.E.O., Whole Foods, Inc.

Click here for the Dalai Lama's statements relative to this book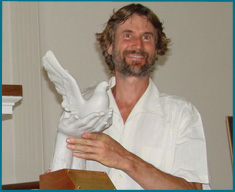 Dr. Tuttle receiving The Peace Abbey's Courage of Conscience Award for writing The World Peace Diet - Click here (#119) to see a list of recipients of the award.
More Reviews:
"Will Tuttle's The World Peace Diet is a challenging wake-up call. His tone is urgent and uncompromising, yet filled with compassionate understanding." -- The Quest Magazine
"Well-informed, impassioned and compassionate."-- The Peaceable Table Journal
"The World Peace Diet is a fabulous read everyone will enjoy! Will Tuttle digs deep into the underlying basis of our eating habits--and their consequences. You will come away with a much deeper understanding of why we must change our diets if we want to live in harmony with ourselves and this planet."
Mike Anderson, author, Rave Diet and Lifestyle
"Complete, compassionate, and profound. You'll never again take lightly the question 'What's for dinner?'"
Victoria Moran, author, Creating a Charmed Life
"The language is well chosen and a pleasure to read. I found myself marking passages to copy later as quotations to rival those of the best vegetarian writers. This book will educate you, challenge you, and maybe motivate you to take action for yourself, your family, and all our fellow creatures."
Janice Stanger, author, The Perfect Formula Diet
"The World Peace Diet is one of those 'necessary' books. It is necessary that all people read it. It is a necessary catalyst for the transformation of human consciousness as it evolves from the domination and exploitation mindset to the paradigm of communion, cooperation, and reverence for all life."
Judy Carman, author, Peace To All Beings
"The World Peace Diet has raised the bar in the understanding of the diet in the order of all life on planet Earth. Reading this book will arm you with the information to become part of the solution and not part of the problem. Will Tuttle has struck a strong blow for the future of our children and grandchildren and you can too by reading this book."
Howard F. Lyman, renowned author, No More Bull! and Mad Cowboy
"This book is a must-read for anyone who wants to grow spiritually, who wants to live a conscious and compassionate life, and who wants to contribute to world peace. I have read many books on the topic of vegetarianism, animal rights and animal welfare, spiritual growth, and peace and nonviolence. This book stands alone in its ability to make the connection between all of these subjects.
"Will Tuttle, Ph.D. is a rare combination of extraordinary compassion, scholarly research and education, spiritual commitment and wisdom, intuitive insights, and the courage to challenge a worldview which goes back 10,000 years. This is a very important book for everyone who wants their lives to contribute to more peace in the world, rather than more suffering and violence."
Delisa Renideo, founder, Center For Peaceful Living, Wasilla, AK
"A compassionate, comprehensive, and readable meditation on the implications of our diet for our physical, moral, spiritual, and social well-being."
Norm Phelps, author, Dominion of Love, The Great Compassion, and The Longest Struggle
"The World Peace Diet should be required reading for everyone regardless of their diet preferences."
Harold Brown, environmental activist and former rancher and dairy operator
"The World Peace Diet is enthralling. You're pulled in from the very beginning, when the author talks about the intimate nature and profound ramifications of the simple act of deciding what to eat. Dr. Tuttle is passionate and articulate without being condescending or pedantic. He weaves together the accumulated wisdom of religious, philosophical, and scientific thinkers through the ages.
"This book ties it all together, cohesively; from every angle and with love and spirit, Will Tuttle implores us to stop the institutionalized oppression of animals and destruction of the earth, and replace it with lovingkindness and communion with Creation. His message is an updated version of an ancient goal - peace on earth, goodwill toward all beings - and his book helps propel us on that glorious journey."
Gary Loewenthal, originator, the Vegan Bake Sale movement, Washington, DC
"The World Peace Diet is challenging, stimulating and motivating. It is a hard read in many ways. "Hard" is productive in this case. Let this book be like a spirit name. I urge you to take the book's message in and let it do its important work."
Rev. Marshall Norman, senior minister, Unity Center of Madison, WI
"Dr. Tuttle's brilliant, timely, and beautiful literary composition The World Peace Diet is a critical evaluation of the intellectual and emotional intelligence behind ethical veganism. Dr. Tuttle elucidates our current health, environmental, moral, ethical, and political condition as a consequence of our most fundamental interaction with our environment—our diet—and offers a path which will inevitably reduce the pain, suffering, and misery of this world through a manifestation of the fundamental tenet of all world religions and moral philosophies: the Golden Rule (to do unto others as we would have them do unto us).
Adam Roufberg, radio talk show host, Free Range Thought

And more reviews:
"A hundred years from now, The World Peace Diet will be regarded as the book that saved humanity." Brent Trafton
"I am halfway through The World Peace Diet -- it is the one and only true Bible." Todd Cameron
"I can't put your World Peace Diet down! I don't think that I have ever underlined a book so heavily." Margaret Daiss Hurley
"The Word Peace Diet is the most profound book I've read in my entire life. Will Tuttle's clear voice, for those who cannot speak for themselves, rings out on every page. It is the truth. I have never felt so free. If I were to do nothing more than to promote the reading of The World Peace Diet for the rest of my life, it would be a life well lived."
Lily Macy, Redway, CA
"The main reason I'm so comfortable in recommending The World Peace Diet is that it is written with endless love: everyone who reads the book feels included in the Oneness of Being. No one need feel blamed for their previous violent way of eating. The World Peace Diet opens eyes and ears and hearts, and once one 'knows,' there is no going back." Rohan Millson
"The World Peace Diet is a stunning piece of beauty and a critical call to action for us all--especially for those of us who claim to love animals." Megan St. Vincent Slattery

"This may well be the work that supplies the world of the 21st century with the paradigm it needs, now that Marx, Lenin, and Mao are rapidly becoming irrelevant; and as liberalism becomes glaringly bankrupt. I used to think that perhaps the work of Ken Wilber was going to meet the need, but after reading The World Peace Diet I think Will Tuttle is the one whose Weltanschauung the world is going to adopt. This book has it all: history, philosophy, metaphysics, science, spirituality, economics, ecology ...challenge and hope.
"It is a huge critique of the military-industrial-meat-medical-media establishment of modern capitalism and its superstructure. The revolution that's foreseen, however, in glaring contrast to the Marxian violent kind, is a peaceful, easy-going one. The calibre of this book is proof enough that eating a plant-based diet is excellent for intelligence."
Azim Amarshi, Dhanyaa Center, Lausanne, Switzerland
John Stephens: "I was at Green Festival today in Seattle, and attended a talk by Congressman Dennis Kucinich, where he talked about how individuals can make a difference by changing their diet. He recommended The World Peace Diet, and held up a copy of it for everyone to see, during his talk."
There are more reviews to be read at Amazon.com. Or write your own!!
Click here to see reviews, articles, and interviews on The World Peace Diet, and to read published articles written by Dr. Tuttle.

If you are interested in the ideas in The World Peace Diet, please click here to go to our sister website, Circle of Compassion, for The Worldwide Prayer Circle for Animals and for further articles and information on creating a world of greater compassion and freedom for all living beings.

Click here for information on quantity discounts, or please contact us:
(800) 697-6614 or (707) 207-5020 or info@willtuttle.com
Will's Music | Madeleine's Art | Portraits | Home | Seminars | Tour Schedule | Links | Reviews | Order | Checkout